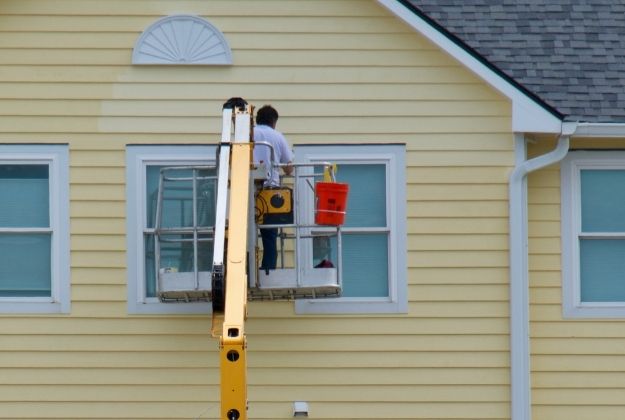 Is your home's exterior riddled with cracks, stains, or other damage? Has its previous color gone dull? These imperfections can make your home look shabby, unprofessional, and old. If you're unhappy with the appearance of your exterior paint, it's time to make some changes. Check out these signs it's time to repaint your home's exterior to determine whether your home could use a facelift.
Cracked Caulking
Caulk keeps your home structurally sound and tight. It seals the areas between the walls, windows, and doors. As it ages, however, caulk becomes brittles, loses elasticity, cracks, and falls away. If left untreated, cracks will allow moisture to enter your home. To prevent this, you'll need to replace the dilapidated areas with fresh caulking. Add a fresh coat of paint for extra protection.
Damaged Paint, Stucco, or Wood
Paint that's bubbling, cracked, or peeling is a hazard. It leaves your home exposed to the elements, which can lead to mold, mildew, or rotting. The same goes for cracked stucco and rotting wood. You'll need to assess the damage to your home, repair it, and cover up the damage with a protective layer of paint.
Moisture Stains and Mold
Sometimes, stains and mold are surface-level imperfections. If that's the case, you can simply wipe them off. For deeper damage, you'll need to have your exterior professionally examined. If there's extensive damage, you'll have to replace the material, but for small, harmless stains, a new coat of paint should do the trick.
Fading Colors
Another sign it's time to repaint your home's exterior is dull, fading paint. When repeatedly exposed to harsh conditions, paint starts to fade. How does your previous paint job look? Bright and lively, or dull and lifeless? If the color's looking lackluster, it might be time for a touchup. Go with the same color, or, if you're yearning for some change, pick something new. What about a nice, modern gray or a gentle-looking blue?
Selling
Planning to move? If you want to sell your home fast, without hassle, and for a great price, you should repaint your exterior. A new paint job will remove any visible imperfections, increase curb appeal, and attract potential buyers. It's good to get an estimate before repainting. Consult a professional, and see if the cost of exterior painting outweighs the benefits.
Time
You should paint your exterior every five to ten years, depending on the quality of paint, craftsmanship, and material that was last used. Wood surfaces should be repainted every three to seven years. Aluminum needs to be repainted every five years, while stucco needs a touchup every five to six years.
Looking to give your home's exterior a much-needed makeover? JK Paint & Contracting is the perfect place to go for exterior painting in Portland.