Exterior Painting Services in the Portland Area
As a homeowner, your home is not just a dwelling place but also your greatest asset. To maintain and increase its value, it's important to invest in its upkeep and improvement regularly. Let's face it, a well-painted home just feels better, and it's always nice to come back to a place that looks great inside and out.
With our home exterior painting service, we understand the importance of enhancing the beauty and functionality of your residence. That's why we offer reliable and top-quality exterior painting services that can transform the look of your home, making it stand out in the Portland Metro Area of Oregon. Our team of experienced painters will not only make your home look great, but will also help protect it from the harsh weather elements of the Pacific Northwest.
By choosing our exterior painting services at JK Paint & Contracting, you'll not only give your home an instant facelift, but also increase its curb appeal and add an extra layer of protection against the weather elements. Don't settle for a drab, faded, or damaged exterior that doesn't do justice to your beautiful home.
Call us today at 503-840-8690 to schedule your exterior painting project and let us help you take pride in your house again with our expert painting services!
Exterior Painting Experts
Whether you're in a housing complex or a single-family home, a fresh coat of paint can do wonders to enhance your space's aesthetics and functionality. Plus, in the Pacific Northwest, painting your home's exterior will protect it from harsh elements like rain, wind, snow, and ice.
In addition to protection, painting your home's exterior has proven to increase its value. By investing in our professional painting services, you'll be making a wise decision in both aesthetics and financial gain. Our skilled team will work with you to create a customized plan, from choosing the perfect color scheme to executing the project with precision and care, we'll take your home's curb appeal to the next level. Contact us today to schedule a consultation and give your home the attention it deserves.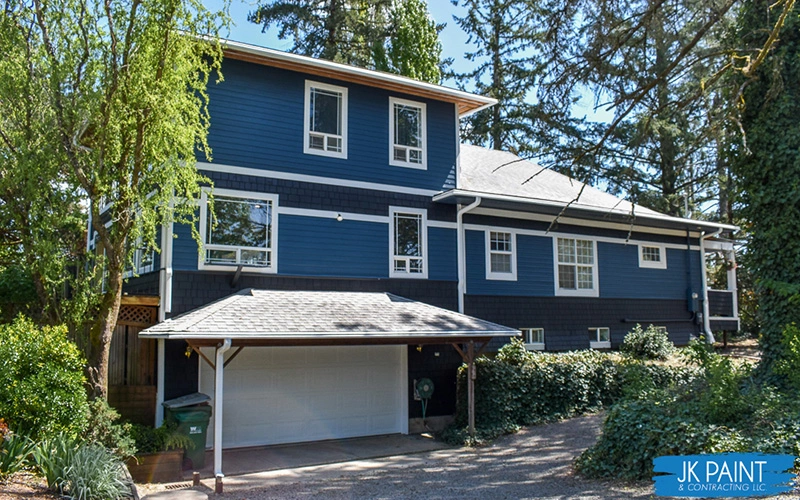 "While contractors are easy to find, you want a good contractor—one who is not only legitimate, fair-dealing, and honest but one who is easy to work with and will carry your creative vision through to completion." 

Sourced from Wallender, Lee
Don't just take our word for it – check out some of the 150+ Google reviews from our satisfied customers, and see for yourself why we're the go-to choice for interior painting in Portland and beyond.
What's Involved In The Exterior Painting Process?
Exterior painting is the process of applying paint to the outer surfaces of a building or structure, such as the walls, trim, and doors. This process can significantly improve the appearance and value of your property while also providing protection against the elements. At JK Paint & Contracting, we have a comprehensive process in place to ensure that your exterior painting project is completed with precision and care. Here are some key factors we consider when it comes to exterior painting:
1. Inspection
At JK Paint & Contracting the first part of the process always considers inspection of the exterior of your home. We are looking to assess its condition, identify any areas that need repair, and determine the best approach for painting.
2. Preparation
The preparation phase involves cleaning and preparing the surfaces to be painted. This includes power washing to remove dirt, debris, and old paint, scraping and sanding any loose or peeling paint, filling in cracks and holes with putty or caulk, and covering any areas that won't be painted with tape or plastic sheeting.
3. Primer
Before applying paint, a primer will be applied to the surfaces to ensure better adhesion and durability of the paint.
4. Painting
Once the preparation work is complete and the primer has dried, we will begin applying paint to the exterior of your home. We will typically use a combination of brushes, rollers, and sprayers to ensure even coverage.
5. Touch-Ups And Cleanup
 After the painting is complete, our exterior painting experts will perform touch-ups and remove any tape or plastic sheeting used for protection. We will also clean up any paint drips or spills and dispose of any materials used during the project.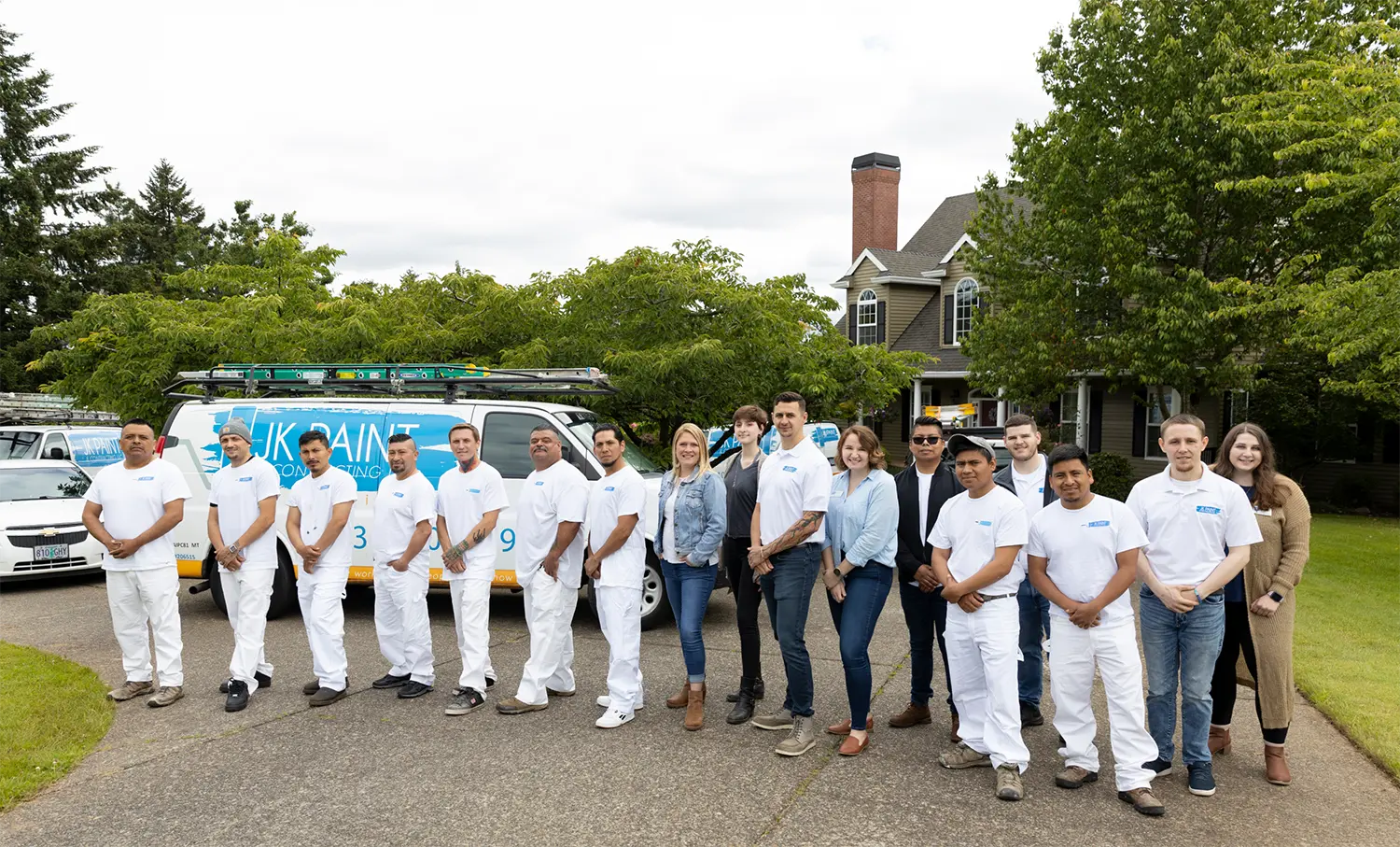 Why Choose JK Paint & Contracting For Exterior Paint?
At JK Paint & Contracting we are committed to providing outstanding customer service and unmatched exterior paint work. As a family owned painting company, our projects are all managed by a single person from initial bid to finalized product without the runaround that could happen at a large painting business. Our exterior painting crews are on time and held accountable through every step of the paint process. We value integrity over having an unhappy or unsatisfied customer and would prefer to earn a solid reputation for being a painting contractor that people can rely on.
Our exterior painting crews are on time and held accountable through every step of the paint process. We value integrity over having an unhappy or unsatisfied customer and would prefer to earn a solid reputation for being a painting contractor that people can rely on.
Don't stress yourself with painting yourself or dealing with other unreliable painting companies. We have earned a solid reputation as a trustworthy and dependable painting contractor, by consistently exceeding our customers' expectations. Don't settle for anything less than the best – choose JK Paint & Contracting for your exterior painting needs.
Family Owned & Operated
Every project is managed and finalized by our project manager who can assist you in a smooth and stress free exterior painting process while upholding our values for a quality paint job.
We Are Warrantied
You can trust that the work will be completed right the first time with clear communication and attention to detail. However, in the unlikely event of a painting mishap you can also trust us to make things right.
Painting Preparation
Paint prep is just as important as the exterior or interior painting service itself – our team experienced painters will wash, sand, caulk, and prime the surface with precision for a long lasting and quality completion.
Experienced Team Members
Our trusted paint contractors are experienced in both exterior and interior painting. We will ensure you receive a superior paint result that protects your home and makes it look like new!
Licensed & Insured
Our painters are both licensed and insured in the state of Oregon so you can trust your painting project will be completed with convenience and ease.
Lead-Safe Certified Services
We are a lead-safe certified painting contractor, which means our painting team can safely remove lead-based paint and bring even the oldest structures back to life no matter how big or small the exterior paint job is.
Capacity For Large Projects
Our crew is led by an employee, not a subcontractor, who has relationships with the main painters and subcontractors on site and knows how to work alongside other contractors and subcontractors on large projects to deliver a job well done.
Efficiency & Reliability
We rely on our year-round, in-house exterior and interior painting crew to ensure your project needs are met in every season.
Exterior Painting Services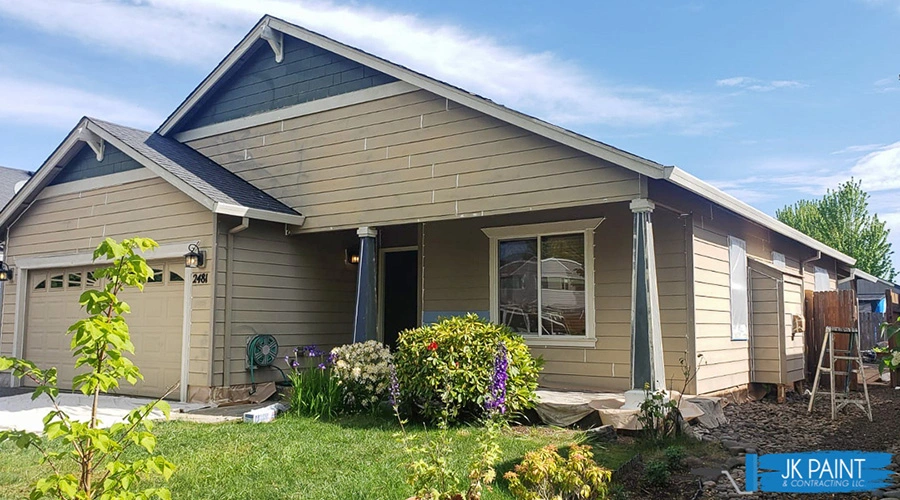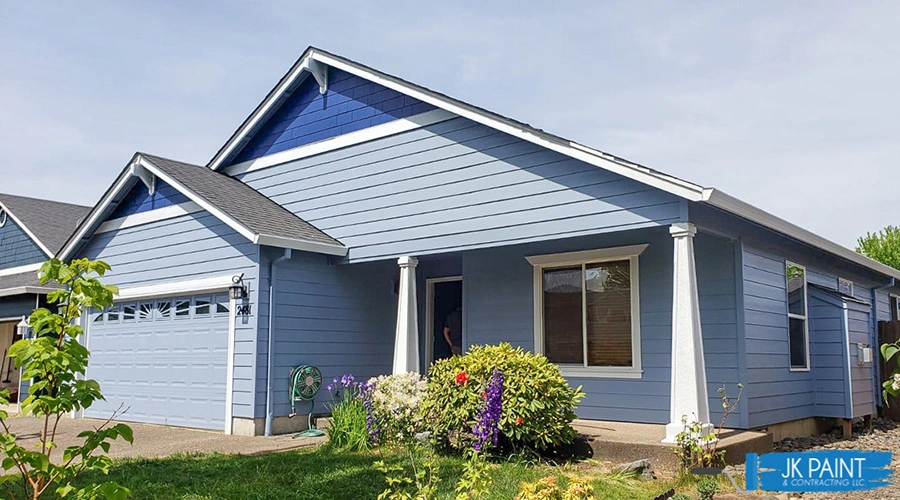 Exterior Wall Paint
Re-painting your siding doesn't have to be a hassle. Our painting contractors have worked on projects big and small and know how to tackle even the most overwhelming paint jobs.
Need New Siding?
Older siding will require more than new paint to be updated. Siding that has noticeable or underlying damage (gaps, cracks, wood rot etc.) poses a threat to the security of your building. Sister Siding can repair or replace your old siding with new siding to boost the aesthetic of your property and protect it from common siding issues found in the Pacific Northwest.
Door Painting & Staining
Are you tired of your old door color? Whether you need a completely new door or just to change its color or stain, JK Paint & Contracting can help. A new coat of paint or a new stain color on your door will help update the whole look of your home.
Exterior Trim Paint
Update your house trim with JK Paint & Contracting. Our painters can change the color of your doors to add a bold new look to your home, and update your house trim paint to match.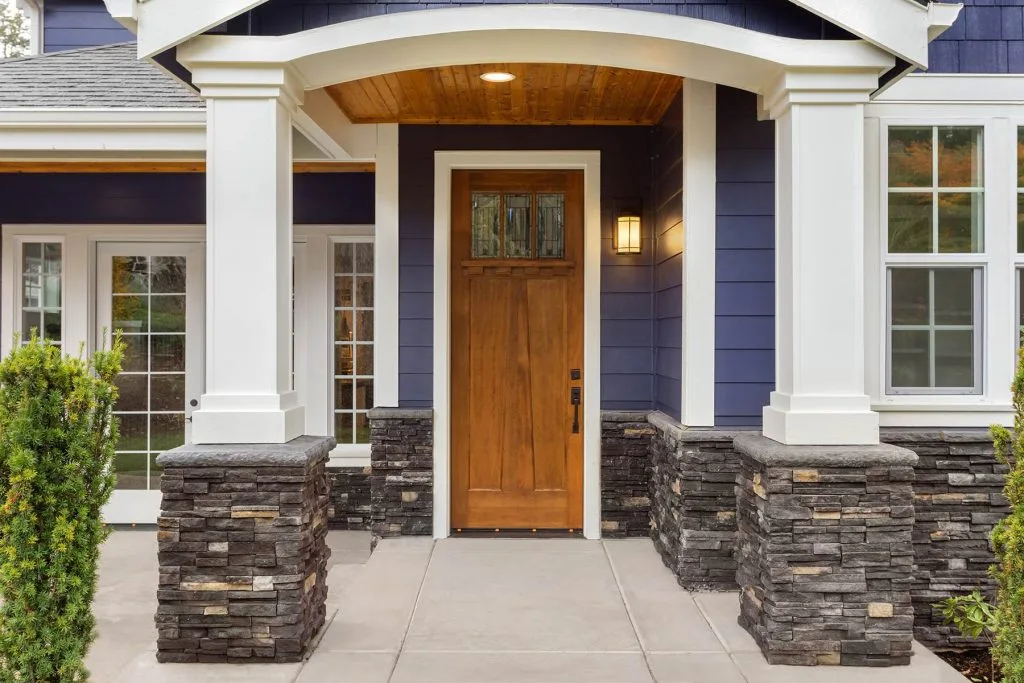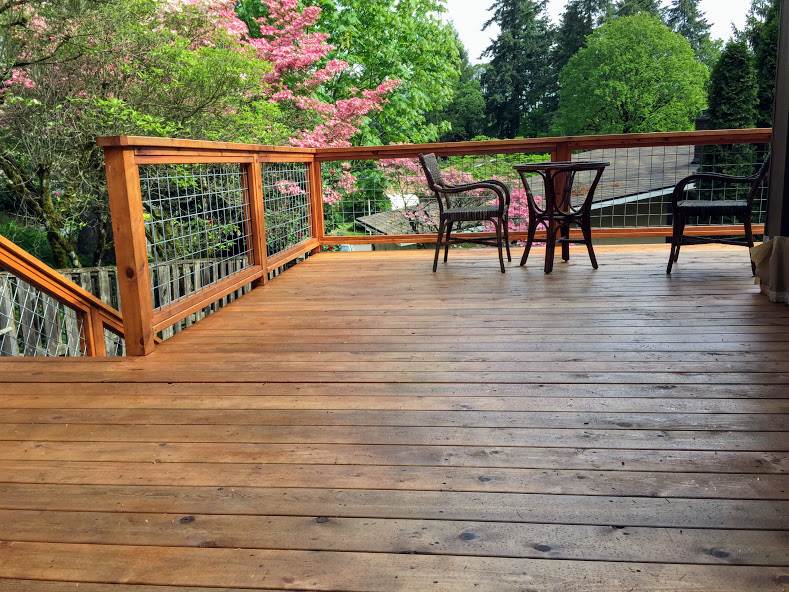 Deck Painting & Staining
Our experienced painters also work on decks! You'll have the option to use semi-transparent stains, solid colored stains or special paints specifically designed for floors. Keep in mind that decking requires regular maintenance, and the hardest part of painting or staining a deck is prepping the deck so that it will properly absorb the penetrating stains or so that the paint will adhere.
If you want to change the color of your deck, contact us about the multiple deck paints and staining options we have to match your preference.
Color Consulting
If you need help choosing which paint colors go best together in or on your house, reach out to us for a color consultant. We want to make sure you're satisfied with the colors you choose for your home. Color consultants use paint trends, different color schemes and paint pallets to accurately help you choose the best colors. This decision includes a thorough knowledge of housing demographics and grafts in your personal color preferences for paint choices that you'll love!
Our estimators and project manager will give free helpful tips and recommendations for paints as well.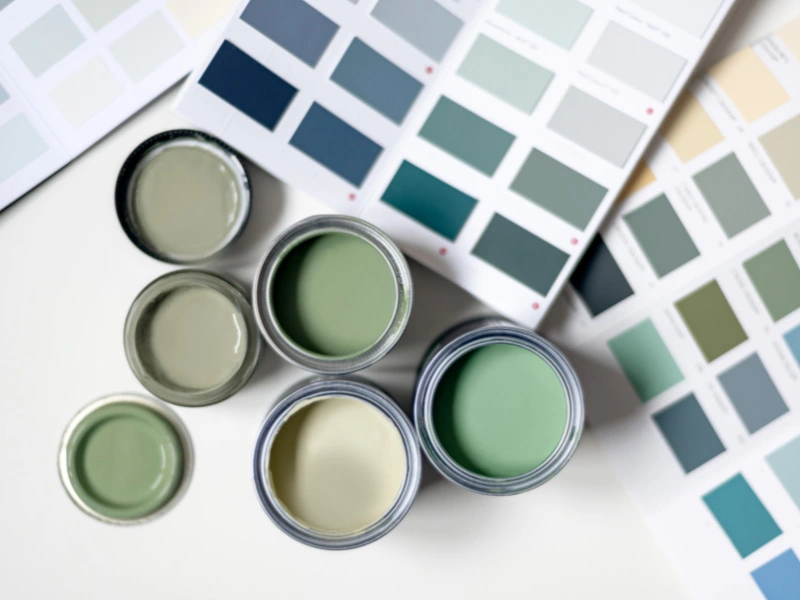 Safe & Certified Lead-Based Paint Removal
JK Paint & Contracting, is licensed and EPA approved by the state of Oregon as a lead–safe certified contractor. We can easily make your home, or other structure, safer with our lead paint removal services and proceed to make it look brand new with fresh coats of lead-free paint.
What is an EPA certified contractor?
An EPA certified contractor (EPA) is a professional who has been certified by the United States Environmental Protection Agency to work on projects involving lead-based paint. This certification is required by law for anyone who is performing renovation, repair, or painting work in homes, childcare facilities, or schools built before 1978, where lead-based paint may be present. We have undergone specialized training to ensure that we can safely handle and dispose of lead-based paint, to protect both ourselves and our clients from the harmful effects of lead exposure.
Our certified employees are trained, protected and properly equipped with EPA and OSHA–approved lead removal equipment and respirators to ensure their safety. We've worked vigorously to ensure our painting professionals can complete lead-related paint jobs with the same level of efficiency and accuracy as any of our other projects. If you would like to learn more about the paint removal process check out our blog called, "Why Lead Paint Should Be Removed From Your Home".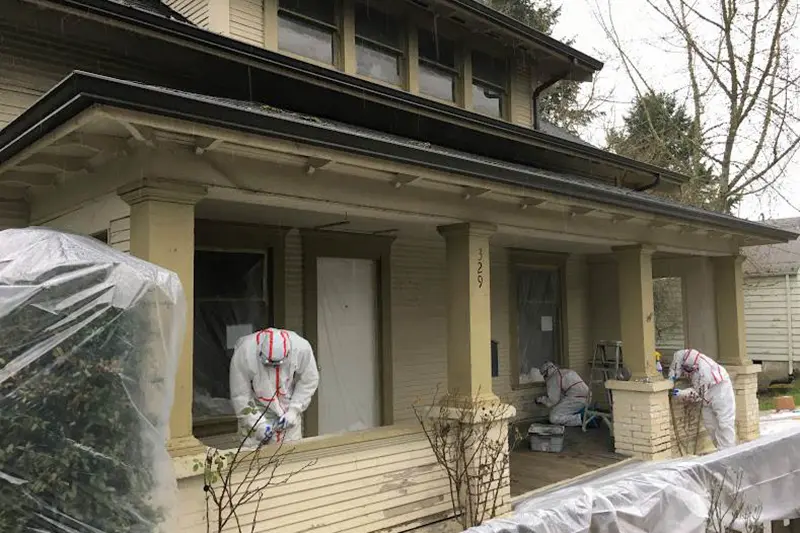 EPA Certified Contractor
Safety and cleanliness are our top two priorities when we reach a job site, and that holds true for lead removal as much as it does for other exterior or interior painting services. We have worked on numerous projects involving lead-based paints. OSHA has visited our lead paint job sites and been impressed with our compliance to their rigorous safety regulations. 
JK Paint & Contracting is an EPA certified contractor offering lead paint removal services to Portland, Oregon, and its surrounding areas. These locations include Newberg, Sherwood, Tualatin, Lake Oswego, and the entire Portland-Metro area. Protect your loved ones from lead-based paint and contact our EPA certified experts for a free quote today.
Should You Repaint Your Exterior?
Repainting your home's exterior is a cost-effective way to protect and enhance its appearance while also providing other benefits such as increased value, improved protection against the elements, and an enhanced mood. Let's explore some of the top benefits of repainting your home's exterior and how it can make a difference in the overall look and feel of your property.
A new coat of paint can protect your exterior surfaces from moisture, UV rays, and other harsh weather conditions, extending the life of your home's exterior and reducing the need for costly repairs.

A new color on your exterior surfaces can create a fresh, inviting atmosphere and make your home stand out from the rest.

Repainting your home's exterior can make it more attractive to potential buyers and boost its value in the real estate market.

Repainting can hide any existing imperfections on your exterior surfaces, such as cracks, peeling paint,

weathered wood

or other damage.

The color of your home's exterior can also have a significant impact on your mood. Depending on the color you choose, it can create a calming or energizing effect.
Let JK Paint & Contracting help you transform the look of your property with a fresh coat of paint. With our expert team and top-quality products, you can be assured that your home's exterior will receive the best care and attention. Contact us today to schedule a free quote and let our skilled exterior painters showcase how we can make a difference in the look and feel of your home.
JK Paint did an excellent job painting the exterior of our winery building. This is a metal building so a bit of a special job and they knew exactly what was called for. The finish on the new paint is excellent and we are thrilled with the transformation. Professional, thorough, good communication, attention to detail, courteous, easy to work with – you name a positive adjective and they achieved it 🙂
-Hemmer Vineyards
Contact Us Today
If you are ready to make an investment in protecting and beautifying your greatest asset with our exterior painting services in Portland, OR, please give us a call now at (503)-840-8690. We have earned a 5-star reputation on Google as a trusted painting contractor in Newberg and the surrounding Portland-Metro areas by being fair, honest, and offering excellent services!
Exterior Painting Services We Offer At JK Paint & Contracting:
Residential Exterior Painting Contractor
Commercial Exterior Painting Contractor
Lead Safe Exterior Painting Contractor
Exterior Color Consultations
Services we offer at JK Paint & Contracting:
Exterior Trim & Woodwork Painting
Dry-Rot Repairs
Drywall Repairs
Texture Matching
Light Remodel & Construction
Exterior Painting
Residential House Painting
Commercial Painting
Siding Replacement & Repair
Interior Painting
Cabinetry Painting
Staining & Lacquer finishes