Interior Painting Services in the Portland Area
JK Paint & Contracting is your local group of interior painting contractors in Portland, OR. We offer our services in Newberg, Sherwood, Tualatin, and the surrounding Portland-Metro area. At JK Paint & Contracting, we know that the prep work that goes in before the interior painting is just as important as the interior painting service itself. Our team of interior painting specialists in Portland, Oregon, will carefully prep the space to be painted, ensuring your valuables are safely covered and out of the way during your interior house painting project. JK Paint & Contracting's interior painters will work efficiently and carefully to ensure that the end result is a beautiful interior paint job for you and your family to enjoy for years to come.
Interior Painting Experts
As your trusted interior painting contractors, it is our mission at JK Paint & Contracting to provide our customers with a great experience and an even better paint job. We are proud to say that our online reviews are proof that we are succeeding when it comes to providing our customers with quality painting experiences. Our team of interior painters are committed to treating your home, or other structure, as if it were their own to provide you with an interior paint job you will enjoy for years to come. Take a look at some of the reviews for our interior painting services and then give us a call to schedule your interior painting project.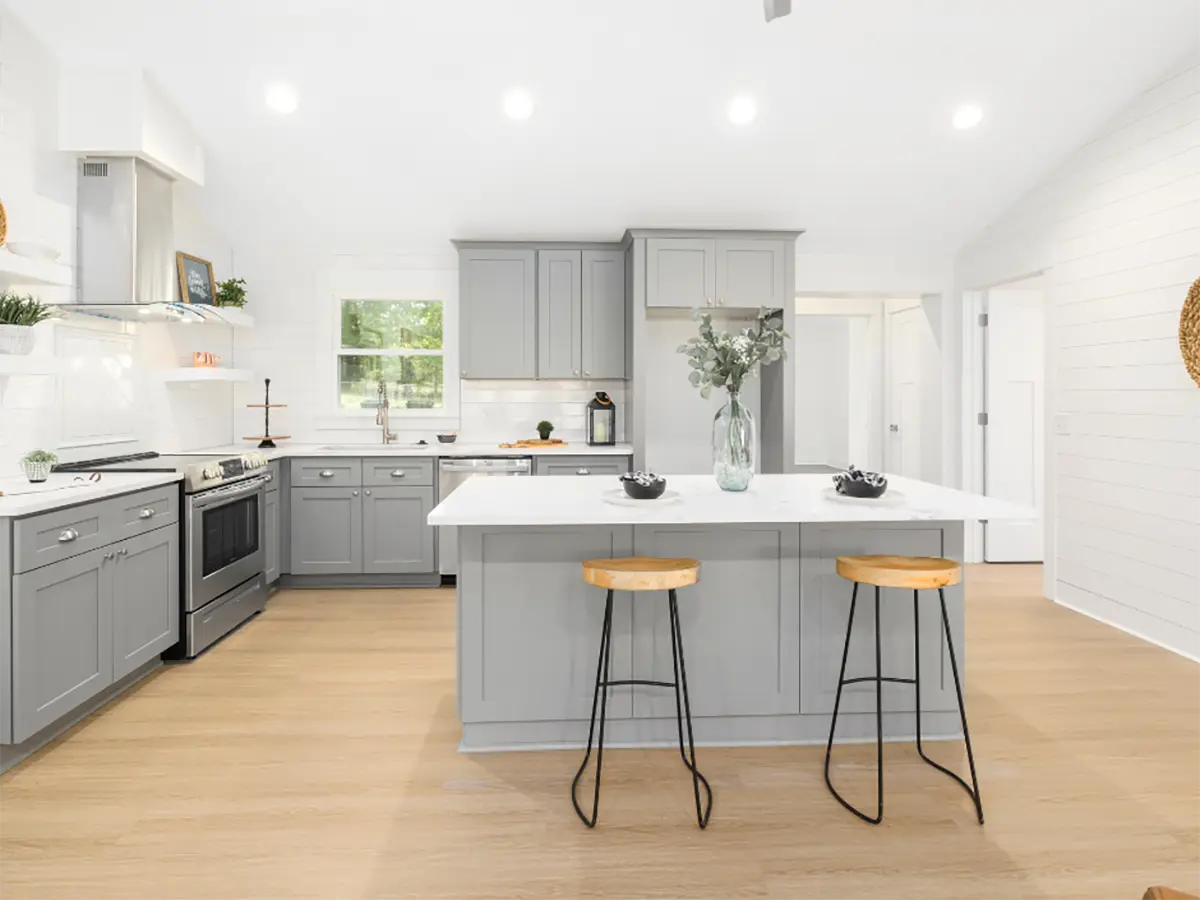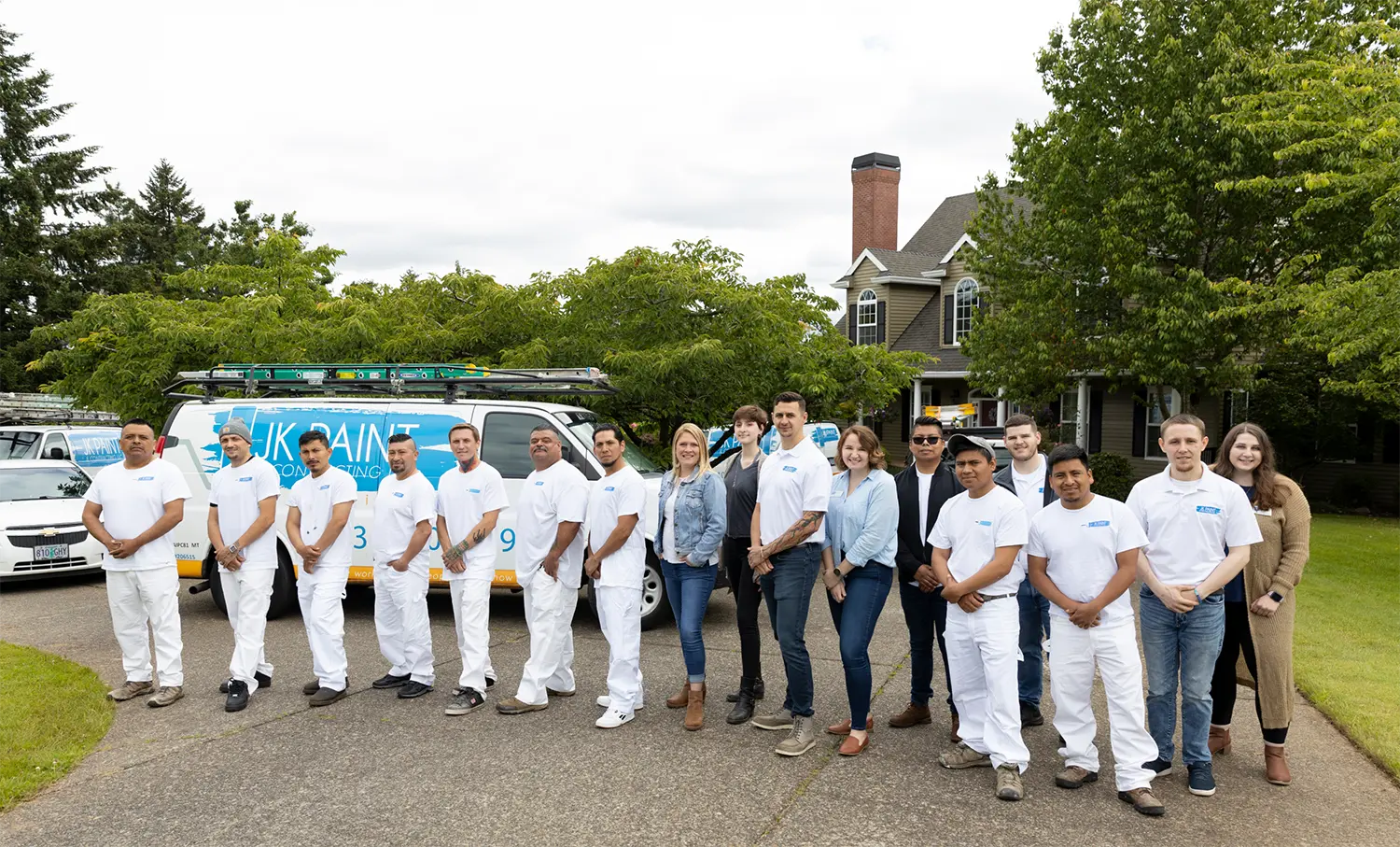 Why Choose JK Paint & Contracting For Interior Paint?
At JK Paint & Contracting we are committed to providing outstanding customer service and unmatched interior paint work. As a family owned painting company, our projects are all managed by a single person from initial bid to finalized product without the runaround that could happen at a large painting business. Our interior painting crews are on time and held accountable through every step of the paint process. We value integrity over having an unhappy or unsatisfied customer and would prefer to earn a solid reputation for being a painting contractor that people can rely on.
Family Owned & Operated
Every project is managed and finalized by our project manager who can assist you in a smooth and stress free interior painting process while upholding our values for a quality paint job.
We Are Warrantied
You can trust that the work will be completed right the first time with clear communication and attention to detail. However, in the unlikely event of a painting mishap you can also trust us to make things right.
Painting Preparation
Paint prep is just as important as the exterior or interior painting service itself – our team experienced painters will wash, sand, caulk, and prime the surface with precision for a long lasting and quality completion.
Experienced Team Members
Our trusted paint contractors are experienced in both exterior and interior painting. We will ensure you receive a superior paint result that protects your home and makes it look like new!
Licensed & Insured
Our painters are both licensed and insured in the state of Oregon so you can trust your painting project will be completed with convenience and ease.
Lead-Safe Certified Services
We are a lead-safe certified painting contractor, which means our painting team can safely remove lead-based paint and bring even the oldest structures back to life no matter how big or small the interior or exterior paint job is.
Capacity For Large Projects
Our crew is led by an employee, not a subcontractor, who has relationships with the main painters and subcontractors on site and knows how to work alongside other contractors and subcontractors on large projects to deliver a job well done.
Efficiency & Reliability
We rely on our year-round, in-house exterior and interior painting crew to ensure your project needs are met in every season.
Interior Painting Services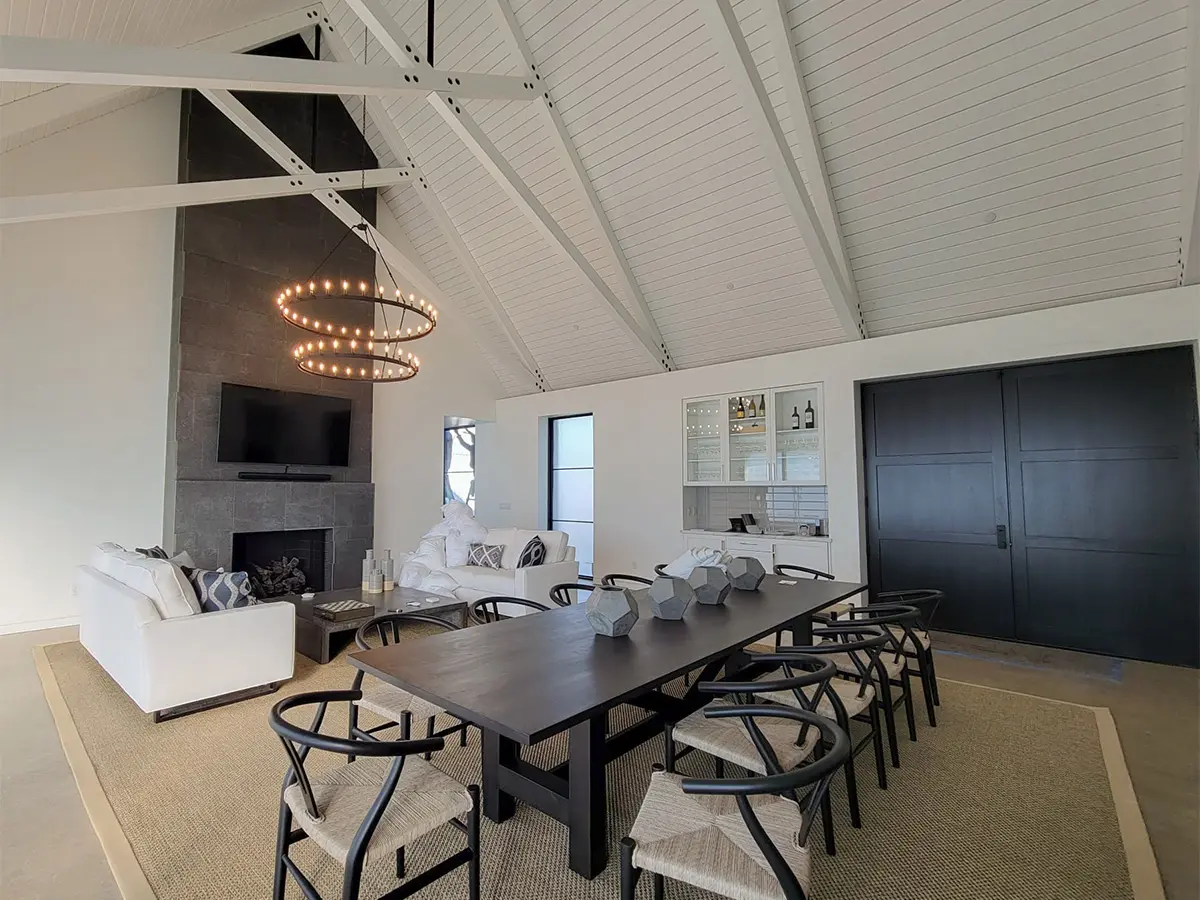 Interior Wall Paint
Do the walls in your house need a new paint color? Re-paint your rooms with JK Paint & Contracting.
Need A Drywall Repair?
Your walls might require more than new paint to be updated. JK Paint & Contracting can fix drywall that has noticeable or underlying damage, which can pose a threat to the security of your building. Just let us know how we can assist you. We also do texture matching for drywall or ceilings that don't have a smooth finish.
Fireplace & Brick Painting
Painting your fireplace doesn't have to be a daunting task. With proper preparation and the correct type of paint, we'll have your fireplace looking brand new in no time.
Our painters also know how to paint over brick so you don't have to worry about keeping brick colors that don't match your style. Whether you want to change the paint color on your brick fireplace or your brick siding, we'd be happy to help you do so.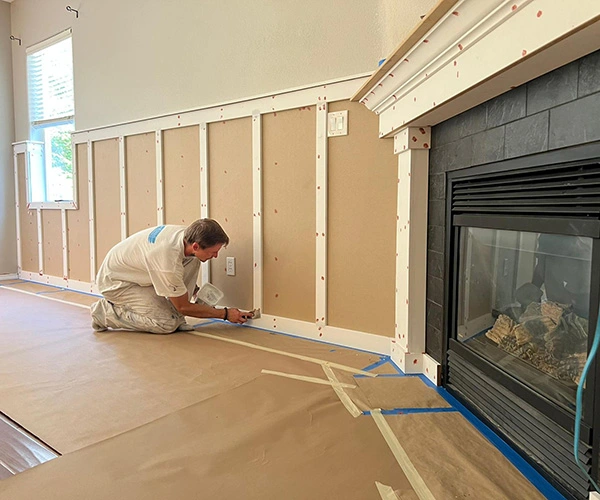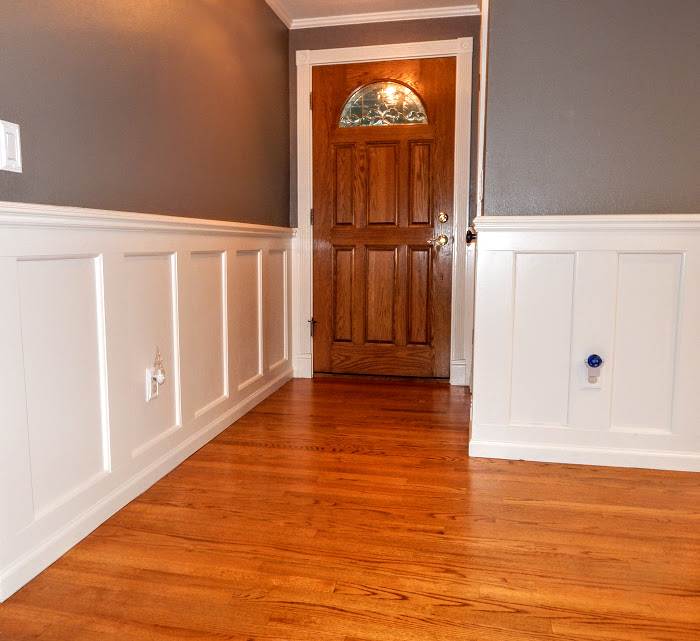 Door Painting & Staining
Are you tired of your old door color? Whether you need a completely new door or just to change its color or stain, JK Paint & Contracting can help. A new coat of paint or a new stain color on your door will help update the whole look of your home.
Interior Trim Paint
Update your house trim with JK Paint & Contracting. When you change the color of your walls or doors, our painters can change the color of the trim in your home to match.
Ceiling Paint
Our painting pros do it all. Ceilings aren't typically thought of when changing the color of a house, but if you need your ceiling repainted, we won't leave any spot untouched.
It's ideal to have ceilings painted at the same time as the walls or trim. However, if you only need your ceiling painted, that's great too! Either way, our painting contractors will ensure a clean finish with straight lines and no messy paint drippings.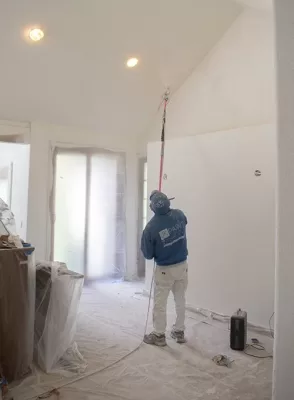 Custom Cabinet Refinishing: Painting & Staining
You don't have to buy new cabinets to remodel your kitchen, you just have to refinish the cabinets you already have! JK Paint & Contracting can make your kitchen look brand new by updating your old cabinetry with a change of color. Whether you're wanting to change the look of your existing cabinets or stain new cabinets, our cabinet painters and staining professionals can get the job done in no time with precision and care.
What Is Cabinet Refinishing?
Refinishing cabinetry is the process of taking old cabinets and changing their paint color to update them without having to buy and install new cabinets. Contact us to renew your cabinets with a refreshed or brand new look!
If you've already purchased new cabinets that don't currently have a color or stain, our cabinet painters and staining professionals would be happy to assist you!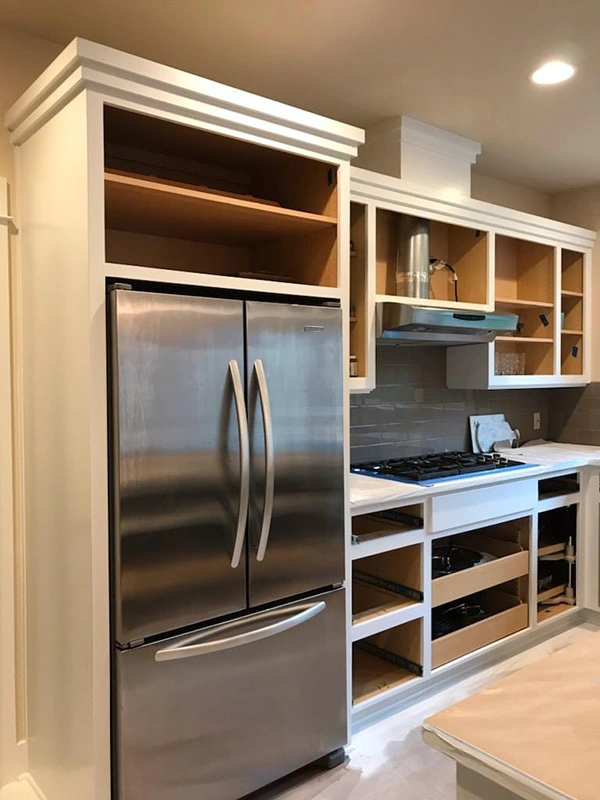 During Cabinet Refinishing Process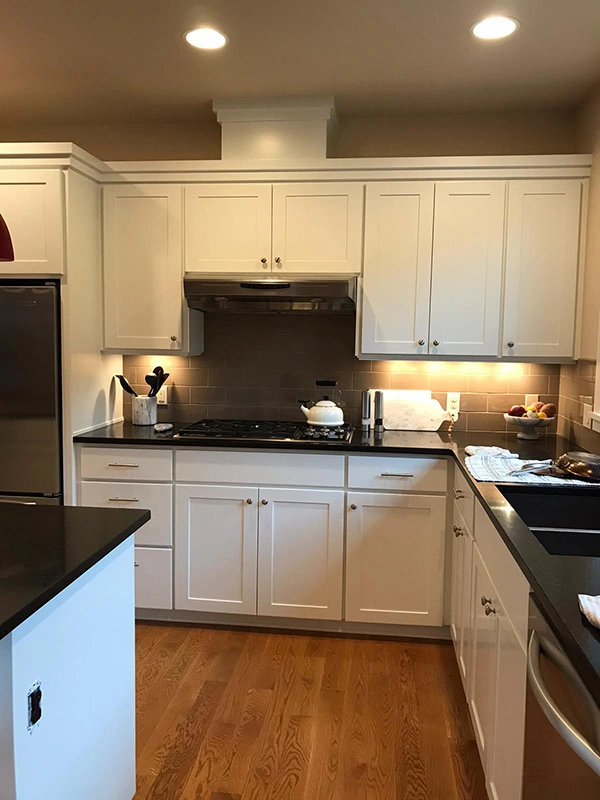 After Cabinet Refinishing Completion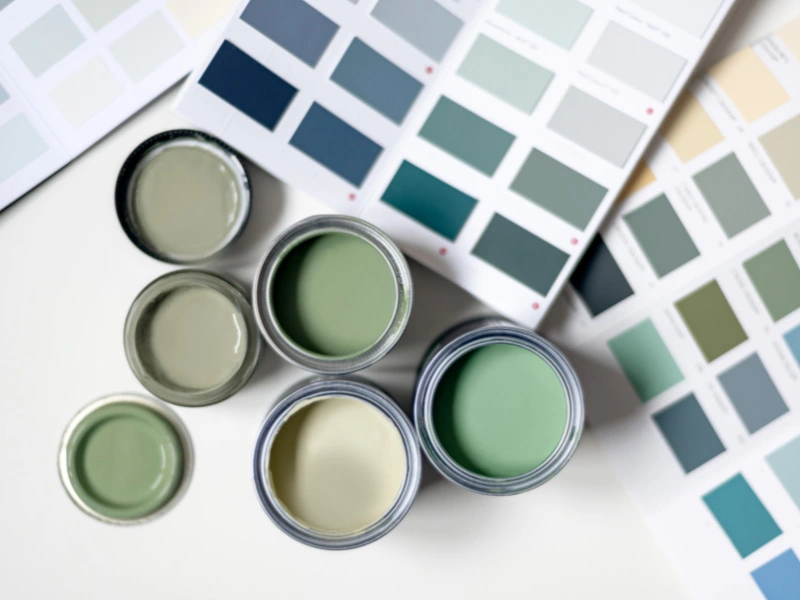 Color Consulting
If you need help choosing which paint colors go best together in or on your house, reach out to us for a color consultant. We want to make sure you're satisfied with the colors you choose for your home. Color consultants use paint trends, different color schemes and paint pallets to accurately help you choose the best colors. This decision includes a thorough knowledge of housing demographics and grafts in your personal color preferences for paint choices that you'll love!
Our estimators and project manager will give free helpful tips and recommendations for paints as well.
Safe & Certified Lead-Based Paint Removal
JK Paint & Contracting, is licensed and EPA approved by the state of Oregon as a lead–safe certified contractor. We can easily make your home, or other structure, safer with our lead paint removal services and proceed to make it look brand new with fresh coats of lead-free paint.
When dealing with a home or facility built prior to 1978, the State of Oregon requires a certified lead–safe contractor. Our certified employees are trained, protected and properly equipped with EPA and OSHA–approved lead removal equipment and respirators to ensure their safety. We've worked vigorously to ensure our painting professionals can complete lead-related paint jobs with the same level of efficiency and accuracy as any of our other projects.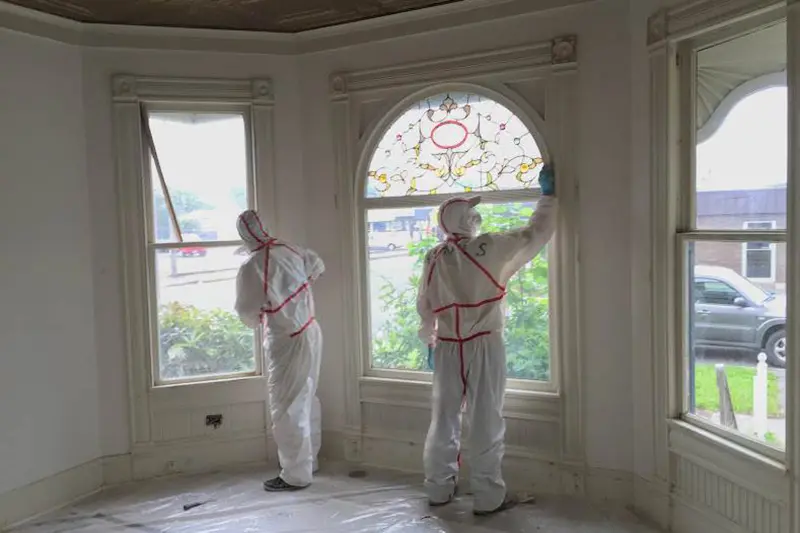 EPA Certified Contractor
We have worked on numerous projects involving lead-based paints. OSHA has visited our lead paint job sites and been impressed with our compliance to their rigorous safety regulations. Safety and cleanliness are our top two priorities when we reach a job site, and that holds true for lead removal as much as it does for other exterior or interior painting services.
JK Paint & Contracting is an EPA certified contractor offering lead paint removal services to Portland, Oregon, and its surrounding areas. These locations include Newberg, Sherwood, Tualatin, Lake Oswego, and the entire Portland-Metro area. Call our lead paint removal experts for a no obligation quote.
JK Paint did an excellent job painting the exterior of our winery building. This is a metal building so a bit of a special job and they knew exactly what was called for. The finish on the new paint is excellent and we are thrilled with the transformation. Professional, thorough, good communication, attention to detail, courteous, easy to work with – you name a positive adjective and they achieved it 🙂
-Hemmer Vineyards
Other Interior Painting Services We Offer At JK Paint & Contracting:
Mantel Painting
Bookshelf Painting
Low or Zero VOC Paint Options
Interior Commercial Painting
Baseboard Painting
Crown Moulding Painting
Stain & Lacquer Finishes
Historical Restorations With Lead-Based Paint
Services we offer at JK Paint & Contracting:
Exterior Trim & Woodwork Painting
Dry-Rot Repairs
Drywall Repairs
Texture Matching
Light Remodel & Construction
Exterior Painting
Residential House Painting
Commercial Painting
Siding Replacement & Repair
Interior Painting
Cabinetry Painting
Staining & Lacquer finishes