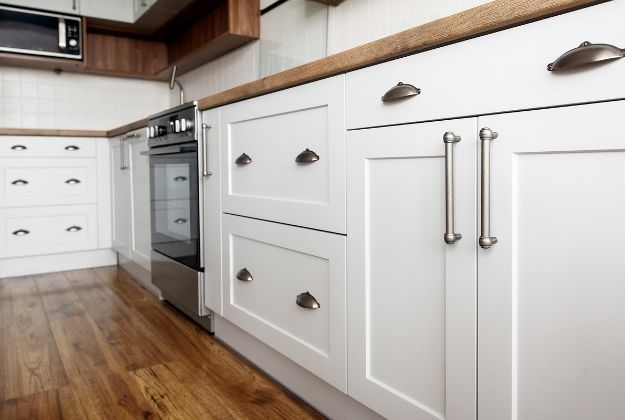 Do you feel like your kitchen could use a makeover but want to avoid the hassle and expense of renovating every square inch? The easiest and most cost-friendly way to make your kitchen look and feel brand-new again is to paint the cabinets. Painting the cabinets seems like a swift, uncomplicated job, and compared to other renovation projects, it is. But many people erroneously assume that the act of painting kitchen cabinets is as easy as picking up a paintbrush and swiping it over your cabinets while they're still on the wall. Here are some things you need to know before painting kitchen cabinets so that you can ensure you paint them correctly and beautifully.
How To Prep
The first step in painting your cabinets is to disassemble, clean, and prep them. You need to remove the pieces you want to paint from the wall and take off the hardware, for starters. To help you reassemble these pieces later, we recommend labeling them. Next, you need to clean your cabinets with a grease-removing agent. Just because they look spotless doesn't mean they are spotless. Even a fine layer of dust or grime can prevent the paint from smoothly adhering to the surface. Finally, you'll want to sand down the surface of each piece and then apply a primer.
What You're Painting
Knowing what you're working on and leaving alone is vital, especially because you need to disassemble the parts you're planning to paint. Most people will stick to painting just the exterior of their cabinets, but others may want to paint the interior as well. Painting the interior is a great option if you aim to keep everything matching or if your cabinets have see-through doors. If you want, you can also be more selective and only paint smaller parts of the cabinets. A neutral interior and frame can look surprisingly nice with bold-colored shelves and doors.
Cheap Doesn't Always Mean Better
Another thing you need to know before painting kitchen cabinets is that, when it comes to supplies, you should never be frugal. Going cheaper might be better for your pocket, but it can be detrimental to your cabinets. High-quality paint tends to be slightly more expensive, but it makes up for that in terms of appearance, sturdiness, and longevity. It will look nicer, protect better, and last longer than mediocre paint. Beside this consideration, you should also invest in high-quality paintbrushes. Cheap brushes don't absorb paint or cover surfaces well. They can also leave behind loose bristles or create streaks in the paint.
Does painting your cabinets by yourself sound a little more complicated than you expected? If you need painting services in Portland, OR, contact JK Paint & Contracting to help with your next project. We'll ensure that your cabinets turn out beautiful!