For the average homeowner, painting can be messy and cumbersome. Even just touching up a spot in a room requires buying the paint, finding the right tool, protecting your floors and cleaning everything up. Professional painters use some tricks of the trade to make the process go smoother. Below are some pro painting tips to help you through your next paint project.
How to Get the Perfect Cut in
Cutting in paint is a skill that can be difficult for DIYers to do right. Cut ins are areas where walls meet or other places that require you to paint in a straight line. Be sure to use an angled sash brush, which is specifically designed to create straight lines and fit into corners. When applying, use a smaller amount of paint and load it by patting not wiping the brush. Also, be sure the area is well lit so you can be patient and focused on creating a straight line. While taping can help, with practice you can save time and money by making your own perfect cut in.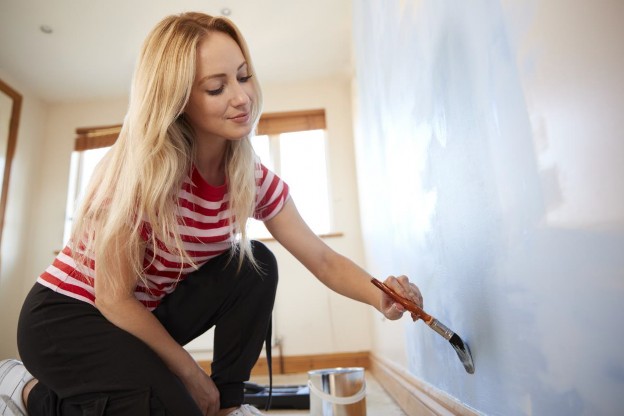 How to Store Your Paint Brush so it Won't Dry Out
Sometimes you're in the middle of a painting project and need to shut it down for the day. Instead of spending all of the necessary time to clean up everything and getting it messy again, you can follow this pro tip. Simply apply plastic wrap around your paint brush to keep it moist for an hour or the next morning.
Remove Fuzz From Paint Rollers
Using a paint roller makes taking on larger spaces easier. However, the lower quality ones typically have a fuzzier texture that can mess up your coat of paint. Before you start painting, use a lint roller or some packing tape to remove any excess fuzz. Your walls will look smooth and even.
Easy Paint Tray Cleanup
The biggest hassle of doing your own painting is the cleanup. Even if you have a paint tray it can be problematic to keep everything clean. Instead of using a bare paint tray, try covering it with aluminum foil to make clean up a cinch.
Get Your Paint Brushes Super Clean
Even the most diligent home painter has trouble getting their brushes looking new again. Instead of throwing away a paint brush, make it super clean by using vinegar to strip paint from the bristles and handle.
Making Tape Removal
While painters opt for masking tape with lighter adhesive for easier removal, many homeowners use the original tan colored masking tape. While it helps protect items you don't want to paint, the stronger adhesive can make it more challenging to remove. If you find a tape that is harder to remove, use a blow dryer to heat the tape and it will come right off.
With these pro painting tips you're all set for an easier paint project. If you decide you'd rather do something else or want a professional painter to do the job right, contact JK Paint & Contracting who is a Newberg Oregon painting contractor. They are licensed, bonded and insured and have many years of professional interior and exterior painting experience. In addition, they choose quality products such as Sherwin-Williams paints to ensure you get long- lasting, high-quality results.