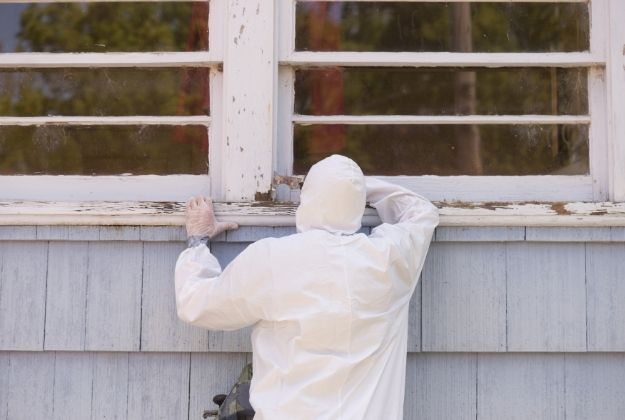 The practice of adding lead pigment to paint was once common. The lead made the paint more durable, making it perfect for painting homes. It wasn't until decades later that health officials became aware of the hazards of lead exposure, including brain and organ damage. Lead paint and other lead-based products were removed from the market and officially banned in 1978. But lead-based paint wasn't eliminated completely. Today, you can still find lead in door and windows trim, on painted stairways, and in other areas of older, traditional homes.
If you own an older home and suspect the presence of lead paint, you'll want to get it removed. Lead paint is harmless unless it's chipped, peeling, or deteriorating, so it's better to remove it before it starts causing problems. Wondering how to remove lead paint from your home? Here's how.
Preparing for Removal
If you think your home might have lead-based paint, you can have the paint tested to confirm your suspicions. Before you remove any paint that has tested positive for lead, you'll want to contact your local building department. Municipalities have strict rules about how the demolition of lead-containing building materials should be handled and how the debris should be disposed of. You'll also want to hire an EPA-certified contractor, even if you're only removing a small amount of lead paint. The removal of lead paint isn't something the average DIY homeowner can do alone. Proper, safe execution of the job requires specialized training, tools, and materials. It's dangerous work, and you shouldn't take it lightly.
Methods of Removing Paint
A contractor might go about removing lead-based paint from your home in several ways. These methods vary in execution, cost, and effectiveness.
Encapsulation
Encapsulation is the least complicated and most affordable option. It involves brushing or rolling a specially made paint-like coating on top of your existing paint. This creates a watertight bond that seals in the lead-based paint. The main downside to encapsulation is that opening and closing any doors, windows, or other openings in your home can cause the coating to wear off over time.
Enclosure
With this method, a new surface covers the old one: the contractors will put up new drywall, cover any windowsills with aluminum or vinyl cladding, or otherwise. However, if you ever have the enclosed surfaces removed, you'll have to deal with the lead-containing surfaces underneath.
Removal
Your contractor might use wire brushing, wet hand-scraping, or another method of removing lead-based paint. They might also opt to wet-sand surfaces using an electric sander equipped with a high-efficiency particulate air-filtered vacuum. Other options include stripping off paint with a low-temperature heat gun or hand-scraping.
Replacement
Another way to remove lead paint from your home is through replacement. Replacement involves removing any offending surfaces and installing new windows, doors, woodwork, and other surfaces in their place.
Is There Anything I Can Do?
Before a contractor comes to remove any paint, there are ways to minimize your family's exposure to the lead. It's important to:
Immediately clean up paint chips.
Clean floors, window frames and sills, and other surfaces weekly with warm water and all-purpose cleaner.
Wash children's hands often, especially before meals, naps, and bedtime.
Prevent children and pets from chewing on painted surfaces.
Remove shoes to avoid tracking lead-contaminated soil inside.
If you need lead paint removal in Portland, Oregon, JK Paint and Contracting is here to help. We're certified by Oregon as a lead-safe contractor, and we can make your home safer for years to come with our effective lead removal services.