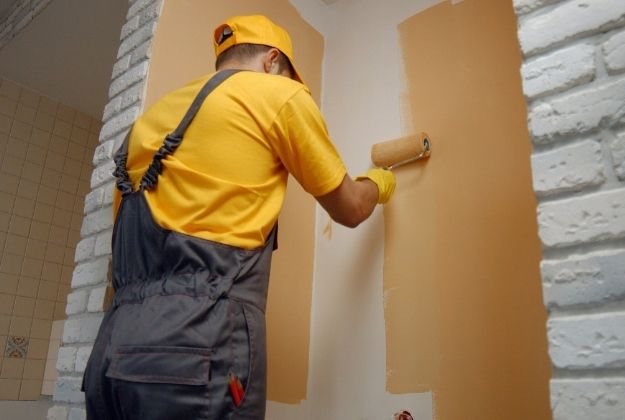 Selecting the right contractor for your home's painting needs is a difficult, frustrating project. There are dozens of available options, so what should you be looking for in a contractor? How do you know if they're asking a reasonable price? This simple guide on how to choose a home painting contractor will take you through the process step by step.
Determine Your Budget
Start by determining your budget. Depending on the extent of your project, the projected dollar amount could range anywhere from a couple hundred to several thousand. For example, a two-story, 2,500-square-foot home will cost, on average, $4,000 for the exterior and $6,000 for the full interior. You can find general estimates online that will predict prices based on your home's square footage.
Include the quality of materials, the project's scale, and the amount of necessary prep work in your overall budget. Does the price seem intimidating? You can save on costs by comparing estimates and drawing up a detailed contract with your contractor-of-choice.
Having trouble? Head online or make some calls—do your research. Contact several companies and inquire about their average quotes. Compare the prices, and plot your budget around the midpoint.
Start Researching
With a budget in mind, it's time to do some thorough research. Check out sites like Yelp, Google, and Angie's List for local contractors. Jot down their names and, later, head to their websites.
Determine the qualities you're looking for—are you primarily concerned about the price or the company's reputation? Are you looking for something local or a bigger, more well-known brand? Knowing what you're searching for is essential as you narrow down the long list of options.
Once you have a few companies in mind, research them in-depth. Scroll through their websites—read through their blog, check out their offerings, and anything else that might catch your interest. Look through the companies' reviews. Are they good? Bad? Neutral? Avoid companies with a slew of negative comments, and lean towards the ones with consistent, high-rated reviews. Contractors with better ratings are often trustworthy, provide better results, and are known for their exceptional customer service.
Glancing through their websites and reviews should further narrow your options. Remember: the ideal company is one that uses quality paints, boasts a commendable reputation, and has reasonable prices. Steer clear of companies that offer suspiciously affordable fees or charge exorbitant prices for "luxury" services. Some other things to consider are the company's experience, licensing, references, overall knowledge, and any guarantees or warranties they might provide.
Interview Your Candidates
Another tip on how to choose a home painting contractor is to ask questions—lots of them, preferably.
You've got your list of potential contractors in hand, and now, it's time to interview them. Get in touch with them via phone, email, or their website's chat, and come ready with a list of questions. Some good ones to ask include:
How long have you been in business?
Do you have any references?
Do you have a contracting license?
Can I see your certificate of insurance?
What professional painting organization do you belong to?
What are your products?
What's your pricing model?
What's the payment schedule?
Do you provide the supplies, or should I buy my own?
Do you offer any guarantees or warranties?
What's your projected timeline for this project?
Will you clean up at the end of the project?
What steps will you take to protect my property?
These questions should paint a decent picture of the company's quality.
Get Multiple Estimates
Before solidifying your choice of contractor, there's one last thing to do—compare estimates. You should, at an absolute minimum, get three bids. The more you have, the better. With the estimates in front of you, start to compare.
What's the pricing model? Ask the contractor to break their costs down. The estimate should include expenses like labor, materials, paint, and travel, as well as an estimated timeframe for the project. Indirect costs—the money that covers the contractor's rent, utilities, and payroll—are important to consider, too.
Compare the estimated timeframe, pricing, and overall quality of the companies on your list, and after some careful thought, narrow it down to one.
Write up a Contract
Once you've selected a company, draw out a contract. Make sure it includes your contactor's key information, such as their name, address, and cell number. It should state the estimated price and timeframe of your project, along with everything that said price covers, such as the painting supplies and physical labor.
Most importantly, it should have a guarantee or warranty in the case of your paint chipping, peeling, blistering, or flaking within the first few weeks or months.
Put Down Your Down Payment
Be wary about paying in full or placing down an unreasonably large sum upfront. Before the project starts, put down a reasonable down payment—15 to 20 percent of the overall costs is ideal. Withhold the full, final payment until they've completed the project and you've done a final walkthrough.
Prepare for Painting
With everything else in place, it's time to prepare your home for the painting process.
For internal painting jobs, ensure your home is free of obstructions. Move your furniture into a different room—ideally, store them in an attic, basement, or storage closet. If you're short on space, pile furniture in the room's center. Remove wall hangings like clocks, artwork, mirrors, and tapestries. If you have outlet covers, remove or cover them in painter's tape to prevent stains. Clean your walls to keep the fresh layer of paint from permanently trapping imperfections like dust, grime, and food stains.
If you have pets or children, keep them secured during the painting process. If they accidentally swallow paint, you'll have a dangerous and potentially deadly situation on your hands. Slipping on the tarp-covered floors can also pose a hazard. On a less serious note, you don't want little handprints and fingerprints—or pawprints—dotting your walls!
For exterior renovations, follow similar guidelines. Remove any obstructions, like trash cans, flowerpots, or bikes, and keep children and pets far, far away.
JK Painting & Contracting is the best place to find reliable painting contractors in Portland, Oregon. In need of a trustworthy team of painters? Contact us today!