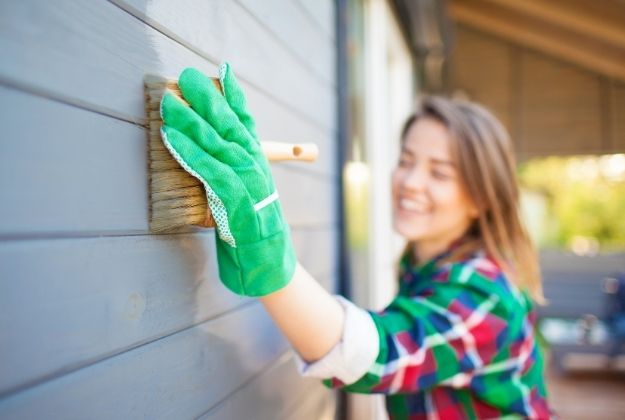 Look outside. How does your house look from the street? Does the paint look brand-new, or is it chipping, flaking, and faded? Are you growing tired of the color you chose a few years ago? Feel like your home is in dire need of a makeover? If you're not completely satisfied with your home's curb appeal, the easiest and most effective way to remedy that is by giving it a new coat of paint.
Landscaping will make your home look beautiful in the spring and summer, but it won't matter when there are several inches of snow on the ground and all the trees and shrubbery are devoid of leaves. The same goes for adding pathways and other unique features—they're not always immediately obvious and can go without notice depending on the weather. Your exterior paint job, on the other hand, is visible year-round. It's big, bold, and typically one of the first things that people notice.
Painting is one of the most effective ways to rejuvenate the exterior of your home, but, unfortunately, it's not as easy and straightforward as painting your interior walls. You have more surface area to work with. There are also unique challenges, such as the weather and temperature, that you'll have to deal with. But if you familiarize yourself with the process beforehand and know what to expect, you can finish painting the exterior of your home in a couple of weeks for a couple thousand dollars. If you'd prefer, you can even hire a professional to do the job instead—this will guarantee a professional finished product. In this guide, we'll go over what to know before painting the exterior of your home so that you can start this substantial home renovation project feeling more confident about the process, regardless of whether you're doing it yourself or relying on a pro.
Use High-Quality Materials
When you're working with a tight budget, it might seem tempting to pick out the cheapest materials possible. However, this could end up being a pricey mistake. It will lower the quality of the results and cost you more money in the long run because cheaper paint, primer, and caulking compounds will deteriorate more quickly. Consequently, you'll have to repaint sooner rather than later and spend more money on more supplies.
The better option is to splurge on top-quality supplies the first time. A high-quality paint will cover more evenly, flow better, and last longer than a low-quality paint. You can even buy paint that comes with a lifetime warranty against defects. Of course, top-quality supplies can be expensive, but you'll be grateful you splurged when the paint still looks brand-new and flawless ten or more years down the line.
The Right Tools for the Job
The right painting supplies are essential, but you'll also need to make sure you have the right tools for applying those supplies. For this kind of job, you'll want to use a high-quality brush, roller, and, optionally, an airless sprayer. The easiest way to apply primer and paint to the exterior is to spray it on with the sprayer and then back-roll it with a roller, which will ensure that it adheres properly.
Don't Neglect the Prep Work
This is one of the biggest mistakes people make before painting, regardless of whether they're working on the interior or exterior. If you want the paint to adhere well, you need to apply it to a surface that's clean, dry, and neither flaking nor peeling. Depending on the existing paint's current condition, you might need to perform a considerable amount of prep work beforehand.
To start, you'll want to wash the surface with a hose and a scrub brush with water and detergent—or you could use a pressure washer for quicker results. For removing loose, flaking paint, you'll need a scraper. A disc power sander or random-orbit sander will help you smooth down the surface. Start by using 60-grit sandpaper, then end with 100-grit sandpaper. You don't want to remove all the paint, just the parts that are loose or damaged. If there are any cracks or holes in the surface, make sure to fill them using a putty knife and wood filler. After the filler dries, sand down the area again. You should also make sure to brush off the dust, caulk the joints, and let the caulk dry before you start applying the primer and paint.
You'll also want to prepare the rest of the exterior by covering decks, shrubs, gardens, patios, walkways, and everything else in the immediate vicinity with drop cloths or plastic sheeting. This step will save you from having to do massive amounts of cleanup afterward or potentially ruining certain items permanently.
Wait for Good Weather
Another thing to know before painting the exterior of your home is the upcoming forecast. When you're painting your home's interior, you don't have to worry too much about the weather. But when you're painting its exterior, the weather can affect the outcome of your project. You should avoid painting when it's hot, humid, raining, snowing, or windy. The ideal temperature for painting is anywhere between 50 and 90 degrees Fahrenheit. If you paint when it's too hot outside, the paint will dry faster than it should, leading to uneven coats and very apparent flaws. In colder conditions, the paint might not adhere properly to the surface. It's best to avoid painting right after a rain or snowstorm, as well, since dampness can result in bubbling paint.
Have Realistic Expectations
It takes a lot of time, money, tools, skill, and stamina to paint your home's exterior. If you don't think you can do the job by yourself, consider hiring a professional to handle it instead. A professional understands the commitment it takes to paint the exterior of a home and will have the right supplies, tools, and attitude to complete the job. You might worry about the cost of hiring a professional, but don't be. Hiring a professional is often less expensive and time-consuming than painting yourself, as they use high-quality products and know the most efficient and effective techniques. Since the finished product will be high-quality, you're less likely to experience cracking, peeling, or fading. And on the rare chance that any of these things happen, the warranty that most professionals offer will handle any repairs.
If you're looking for residential painting in Portland, Oregon, JK Paint and Contracting can help. Our trustworthy, reliable, and consistent professionals will paint your home right the first time, leaving you with beautiful results that will last a lifetime. Contact us today to discuss your next home improvement project!