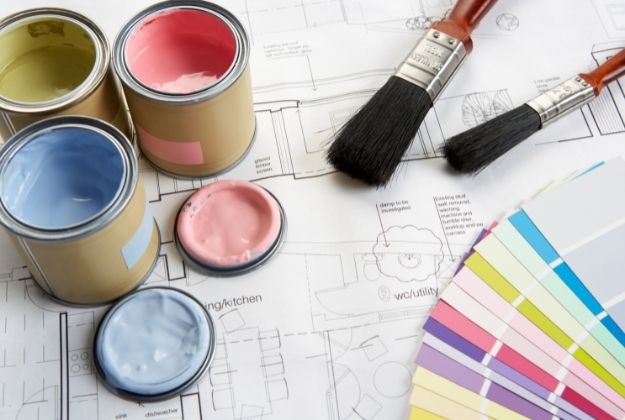 Are you planning an ambitious painting project? You'll need more than just a can of paint and some paintbrushes. Paint finishes are the perfect final touch to any freshly painted surface. But there are several kinds of finishes to choose from: how do you know which one to use? Let's look at the best paint finishes for every room in the home.
The Five Main Paint Finishes
Before you start looking at finishes, it's a good idea to familiarize yourself with the five main kinds. This includes eggshell, flat and matte, gloss, satin, and semi-gloss finishes. Here's what to know about each one.
Eggshell
This finish has a dull and chalky appearance that mimics the look of real eggshells. Eggshell is one of the most popular finishes due to its sheer versatility. It looks great in just about any room. And those who live in a messy and chaotic household are happy to hear that this finish is both scuff-resistant and easy to clean.
Flat and Matte
Flat finishes, also known as matte finishes, are an extremely pigmented and non-reflective kind of paint finish. Because flat finishes have so much pigment, they require fewer coats than most other finishes and are easier to apply. And since they don't reflect light, they effectively conceal imperfections in the wall. This is why some people refer to flat finishes as concealer paint.
The main downside of flat finishes is that they're hard to clean. You can only use a damp cloth or sponge—cleaners will damage the finish.
Gloss
Gloss finishes are the most reflective finishes you can get. They give surfaces an almost mirror-like appearance and look great on doors, cabinets, and trim.
Gloss is the most expensive kind of finish and takes several coats to apply, so make sure you have enough money in the budget and time to spare before you buy it.
Satin
A satin finish is the perfect middle ground if you can't decide between an eggshell and a semi-gloss finish. Satin finishes are impressively durable. They're scuff-resistant, stain-resistant, moisture-resistant, and one of the easiest finishes to clean. This makes them ideal for high-traffic areas and both indoor and outdoor use.
Semi-Gloss
Semi-gloss finishes are more reflective than satin. They make rooms appear shiny and sleek. They can also create the illusion of bigger, brighter rooms since they heavily disperse both natural and artificial light. Semi-gloss finishes are also extremely moisture resistant. This makes them ideal for rooms that see a lot of condensation and accidental spills.
Although easy to clean, semi-gloss finishes don't hide imperfections in the wall as well as flatter finishes.
How Do I Choose the Best Finish?
There are a couple of factors to consider when choosing a finish. Here's what those factors are.
The Paint Color
The finish you use can impact how the final color of your walls looks. Low-gloss finishes lighten paint, while glossy finishes darken paint. This can put a real wrench in your plans if you don't come prepared!
If you plan to use a low-gloss finish, choose a paint that's slightly darker than your desired shade, and if you're using a high-gloss finish, choose one that's slightly lighter. This ensures the final shade is what you pictured.
Your Personal Preferences
Another important thing to consider is your personal preferences. Do you want your walls to gleam brilliantly in the light? Or would you prefer your room to look nice and dim?
Glossy finishes can make rooms pop and even appear larger and brighter. But they aren't for everyone. Glossy finishes turn rooms into mini mirrors. You can see the reflections of your furniture and décor in walls with glossy finishes! They also aren't good at masking imperfections and are hard to clean, which makes them a poor choice for families with children or pets.
Low-gloss paints are cheaper, easier to care for, and good at hiding scratches and other imperfections in the wall, but they also don't stand out very well and may seem boring to those who love bold and eclectic design.
Your Budget
Your budget also plays an important role in your choice. Generally, low-gloss paints such as flat and eggshell are the cheapest, while high-gloss finishes are more expensive.
The Best Finishes for Each Room
Each room in the home has one or two kinds of finish that work best. A moisture-resistant finish is essential for bathrooms, for example, and for hallways, you want something that can resist a lot of wear and tear. Here are the best paint finishes for every room in the home.
Bathrooms and Kitchens
Bathrooms and kitchens are two of the messiest rooms in the house. Steaming hot showers and bubbling pots also leave them incredibly moist and humid.
For these rooms, you need a finish that's moisture-resistant and easy to clean. Semi-gloss is best, but if you don't want an overly glossy sheen, eggshell also works.
Living Room
The living room is one of the most frequently used rooms in the home. By that logic, you should use a scuff and stain-resistant finish, right? Not necessarily.
If you use your living room for all sorts of things—exercising, eating, playing with kids and pets—then yes, a more durable finish is better.
But if you're the kind of person that spends their time in the living room lounging around reading or watching TV, you don't need a super resistant finish. Low gloss finishes such as flat or eggshell will work fine.
Bedroom
Bedrooms are where people go to sleep. And unless you're a vampire or a night owl, you probably prefer to snooze after the sun goes down. Low-gloss finishes keep your room dark by absorbing light instead of reflecting it. And because you don't use bedrooms for much more besides sleeping, you don't have to worry about scuffs.
However, if you're painting a child's bedroom or a nursery, you may want to choose a satin finish. Satin finishes are extremely durable and will hold up to whatever messes your kids make.
Dining Room and Hallway
Dining rooms can get messy and narrow hallways are prone to scuffs. For these rooms, it's best to go with a glossy and more hardwearing finish such as satin or semi-gloss.
Are you looking for a reliable interior painting service that can help you choose the best paint—and finish—for your home? Contact JK Paint and Contracting today to discuss your next interior renovation project. Let us help you create the home of your dreams!