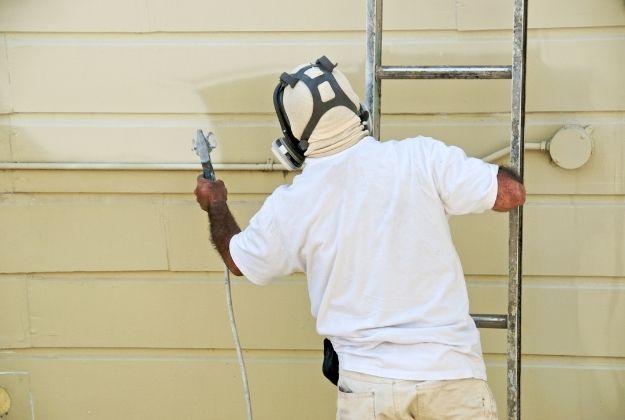 Taking care of your home's siding is essential for maintaining excellent curb appeal. One aspect of siding maintenance is periodic painting. There are several types of exterior siding. Aluminum, vinyl, and wood are three of the most common.
But can you paint all three of these types? If not, what types of exterior siding can be painted? And is there anything you should keep in mind when painting different types of siding? Here's what you need to know about painting aluminum, vinyl, and wood siding.
Vinyl
If you want many options, you can purchase vinyl siding in a wide range of designs and colors. This versatility makes it a popular choice for homeowners who want something unique and good-looking on a budget. Because vinyl siding is durable and comes already painted, painting it isn't a necessity for you.
The paint can fade and discolor over time, but most homeowners opt to replace their vinyl siding once it deteriorates instead of repainting it. Fading and discoloration are two signs that vinyl siding is at the end of its lifespan.
That said, it's not impossible to paint vinyl siding. If you want to paint your faded or discolored siding instead of replacing it, make sure to use something safe for the material. Latex urethane paints are good options.
Aluminum
Aluminum siding is durable. Unfortunately, the paint on aluminum siding can fade and turn chalky over time. Unlike vinyl, replacing aluminum siding is more expensive than repainting it. When aluminum siding wears down, most homeowners choose to hire an exterior painting contractor to repaint it.
Before you paint your aluminum siding, clean it with a power washer and sand or scrape away as much old paint as you can. As with vinyl siding, make sure to use the right kind of paint. Acrylic latex paint is a safe option for aluminum. You should also use an oil-based primer beforehand.
Wood
Do you want the exterior of your home to have a charming and rustic appearance? If so, wood siding is the way to go. But wood also requires lots of maintenance. It's susceptible to the weather and extreme temperatures and can also attract wood-eating pests, such as termites.
Wood is another type of exterior siding that can be painted. If you want to keep your wood siding in good condition, you should paint or stain it roughly every five years. For the longest-lasting results, it's important to choose a paint or stain that's durable and weather-resistant.
Are you looking for professionals to come and help with your upcoming painting project? Give JK Paint & Contracting a call. Our experienced contractors will work with you every step of the way to ensure a stellar result.