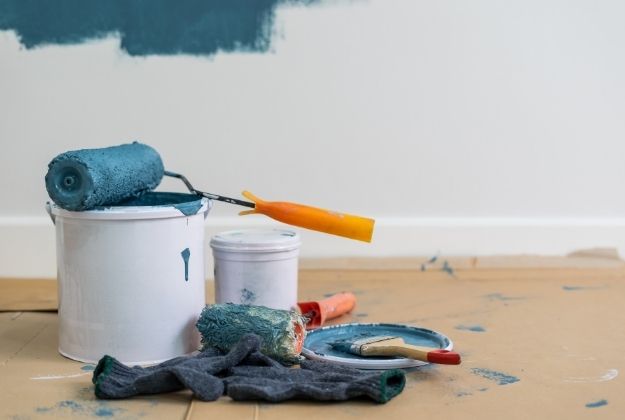 You're done with your remodel! It looks great, but there's just one small problem—you have a ton of leftover paint. What should you do with it? Most people choose to throw it away, but wet paint doesn't belong in the trash.
If you're wondering what to do with leftover paint after a remodel, here's how to (correctly) dispose of it. Don't want it to go to waste? Don't worry. We offer a few ways you can reuse your leftover paint as well.
Dispose of It
Oil-based paint is considered hazardous waste and needs to be disposed of at a recycling center or at your local paint or hardware store (assuming they have a recycling program). Latex paint is non-toxic, but it can become dangerous if not disposed of properly.
If you need to discard latex paint, make sure to dry it out first. Remove the lid and place the can somewhere warm. You can mix kitty litter or shredded paper into the paint to accelerate the drying process. Once the paint is dry, set the cans (with lids off) next to your trash container for pickup.
Don't want to go through the hassle of disposing of leftover paint yourself? JK Paint and Contracting's painting services in Portland, Oregon, include professional cleanup and disposal.
Store and Reuse It
You can also store your leftover paint so that you can reuse it for future endeavors. You can store small amounts of paint in mason jars. Keep larger amounts of paint in the original can. Place a piece of plastic on top of the can, secure the lid over the plastic, then store the cans face-down. This will keep the paint fresh.
The best place to store your leftover paint is in the basement, a cabinet, or a closet. You should avoid using the garage or attic as storage areas because these locations are susceptible to extreme temperature fluctuations in the summer and winter.
Make Chalkboard Paint
Do you have kids? Maybe you're a kid at heart? Or perhaps you're a busy bee that runs out of post-it notes on the daily? There's good news for you—another thing to do with leftover paint after a remodel is use it to make chalkboard paint.
For this project, you need plaster, leftover paint, and water. For every three tablespoons of paint you use, mix in two tablespoons of plaster and one tablespoon of water. You can use this paint on furniture, walls, inside cabinets, and wherever else you wish you could doodle or jot down important notes.
Need help with your upcoming paint project? Give JK Paint and Contracting a call to discuss your vision. We can assist with all your interior and exterior painting needs.