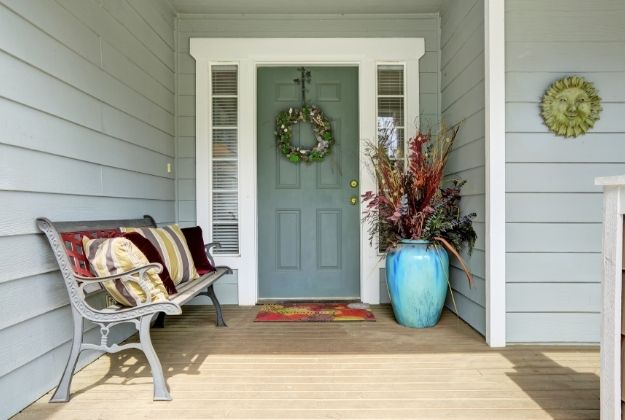 If you're planning to freshen up your home's exterior with a new coat of lustrous paint, there's one other thing you should consider if you want to transform your property's look completely: painting the door.
If the kitchen is the heart of the home, then the front door is the broad smile that welcomes family, friends, and new acquaintances alike. If you want your home to seem even more welcoming, revamping your entrance is the best place to start. Here are some tips for choosing a front door color so that you can choose the best hue to complement your new exterior paint.
Make It Match
The last thing that homeowners want is a front door that sticks out like a sore thumb. The easiest way to prevent a paint faux pas is to match the door to its surroundings. A modern home can get away with having a bold-colored door, but the combination of a classy brick exterior and a showy, neon green entrance will look bizarre on a traditional-style home.
The landscape is usually a good place to look for color ideas. If your home sits amid lush evergreen trees and red peonies, green and red will likely make excellent complementary hues for the front door.
Don't Shy Away From Color
The next tip for choosing a front door color is to embrace the bolds and brights. You can't go wrong with classic, neutral shades, but that doesn't mean you should be afraid to use color instead. A splash of color can imbue your door with personality and charm.
If you're worried about bright shades being too overwhelming, dark ones can provide your door with the same colorful touch without appearing overly lurid or flashy. Consider colors such as crimson, pine, navy, and plum.
Use the Right Kind of Paint
Choosing the right kind of paint is essential for protecting your door against scuffs, scratches, and rust. Latex paints are ideal for front doors. They provide protection against the weather, peeling, and fading. If you have a metal entrance, search for paints that offer built-in rust protection alongside weather and scuff resistance.
What about selecting a finish? High gloss is best if you want to make subtle architectural details stand out, while semi-gloss is ideal for homeowners who want to disguise nicks, scratches, or other imperfections.
If you need assistance with interior and exterior painting, contact JK Paint & Contracting today to discuss your vision. Our friendly and knowledgeable contractors will get the job done right!