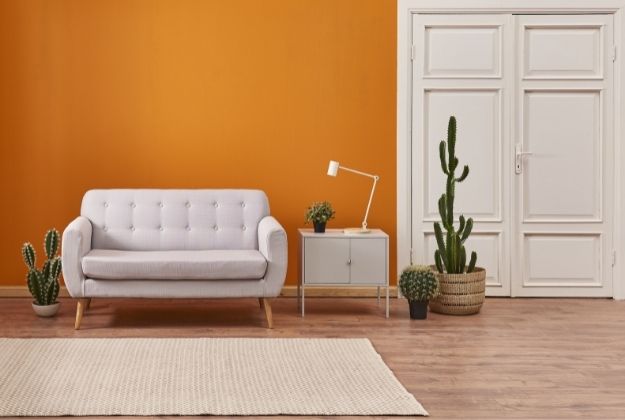 Are you tired of living in a small and cramped space? Before you start looking for a new home or apartment, you might want to try painting those claustrophobic areas. A new coat of paint won't increase the square footage of your home, but it can make rooms that feel small feel bigger. By using the right kind of paint, you can turn any quaint room into a spacious one. Here's how to use paint to make small spaces look bigger.
Use Bright Colors
Are your rooms dark and dreary? Make them light and bright with light-colored paint. Light hues and shades are reflective. This makes them excellent at diffusing natural and artificial light. Dark colors, on the other hand, absorb light and make rooms feel darker and smaller.
To make your room as bright and roomy as humanly possible, opt for colors such as off-whites, light browns and greys, or pastels.
Choose a Glossy Finish
Just like with color, you want to make sure you choose the most reflective finish possible. This means picking out a glossy paint as opposed to a matte or flat one. A matte finish has no shine. Glossy finishes have plenty. You don't want a finish that doesn't reflect any light, but you also don't want to choose a finish that's so shiny it blinds you every time you walk into the room.
For this reason, it best to stick with a finish that's glossy but not too glossy. The ideal finishes for optimizing light and space are satin and eggshell. Satin is easier to clean, which makes it perfect for places such as the kitchen or bathroom. If you have rooms where the walls are a bit dingy, however, choose eggshell because it's better at hiding surface flaws.
Be (Mostly) Consistent
The final tip on how to use paint to make small spaces look bigger is to be (mostly) consistent with the colors you use. Using a single paint color (or multiple similar colors) throughout the home makes the transition between rooms seamless. In a way, it gives even the most closed-off homes an open-concept feel.
But don't feel like every room needs to be the exact same, either. Accent walls are a great way to break up the monotony of a single color without being too overwhelming or soaking up too much of your much-needed light. These accent walls don't need to be another light shade. You can also opt for darker colors, such as navy, juniper, or charcoal.
Need help making your home feel brighter and more spacious? For painting in Wilsonville, Oregon, contact JK Paint & Contracting. Our experienced and friendly painters will get the job done right!