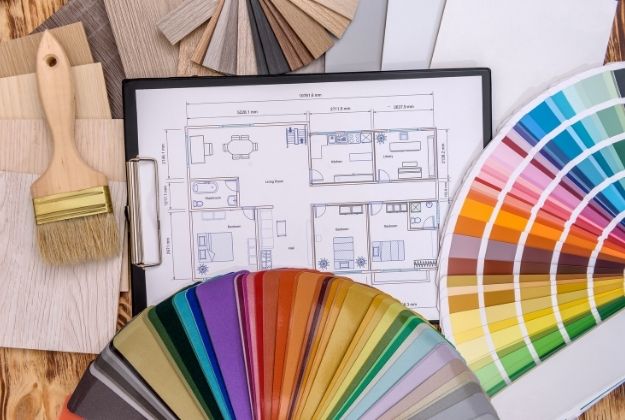 If there's one trend in residential architecture that isn't going away anytime soon, it's the open concept floor plan. An open concept floor plan, as the name suggests, is a floor plan where multiple living spaces—such as the living room, dining room, and kitchen—are connected. There aren't any walls to separate them, which creates an open, airy, and spacious feel that many homeowners find appealing. Unfortunately, there's one major downside to an open floor plan—it's much harder to pick a color palette for your home when everything is connected. How are you supposed to make each room appear distinct without losing a sense of cohesiveness? Luckily, these tips on how to choose the right palette for an open concept space are here to save the day and help you find a balance between distinctiveness and harmony.
To Divide or Unite
Do you want to use color to distinguish different sections of the floor plan, or do you want to use color to unite them? If you're planning on using color to differentiate, consider picking out one base color—preferably something neutral—then giving each section its own individual accent color. The base color will keep everything cohesive, while the accent colors will make the different sections stand out. If you'd rather use color to unite, pick out a few colors—two to three is ideal—and use them throughout the home. If you start to get tired of the colors you're using, don't be afraid to play with hue. If one of your colors is blue, for example, you can use powder blue in one area and incorporate navy accents into another.
When in Doubt, Go Neutral
Another tip on how to choose the right palette for an open concept space is to go neutral. You can never go wrong with a basic, neutral color such as off-white, beige, or gray. These colors go well with just about everything and don't need to be boring as long as you know how to get creative with them. Pick out a neutral color, then go wild with texture. Texture can help the different sections of your room stand out without the need for multiple colors. You can have a massive brick wall in the living room, a shiny tile backsplash in the kitchen, and elegant wainscoting in the dining room.
Let Architecture Guide the Way
Most spaces will still have architectural features that make them unique. Your kitchen might have a different type of flooring than the rest of the home, or there might be an open archway between the living room and dining room. These corners and transitional areas provide an inherent place where you can start and stop a paint color. You can paint your living room a desaturated, grayish-blue, then transition into a medium gray where the archway begins, for example. Much like a wall, these architectural features act as a partition and will make the gradient between colors appear natural and flawless.
Need someone to help you with painting in Wilsonville, Oregon? Contact JK Paint and Contracting today. Our trustworthy, reliable, and consistent painters will make sure your next painting project is completed quickly and efficiently. You're guaranteed to be satisfied with the beautiful, long-lasting results!